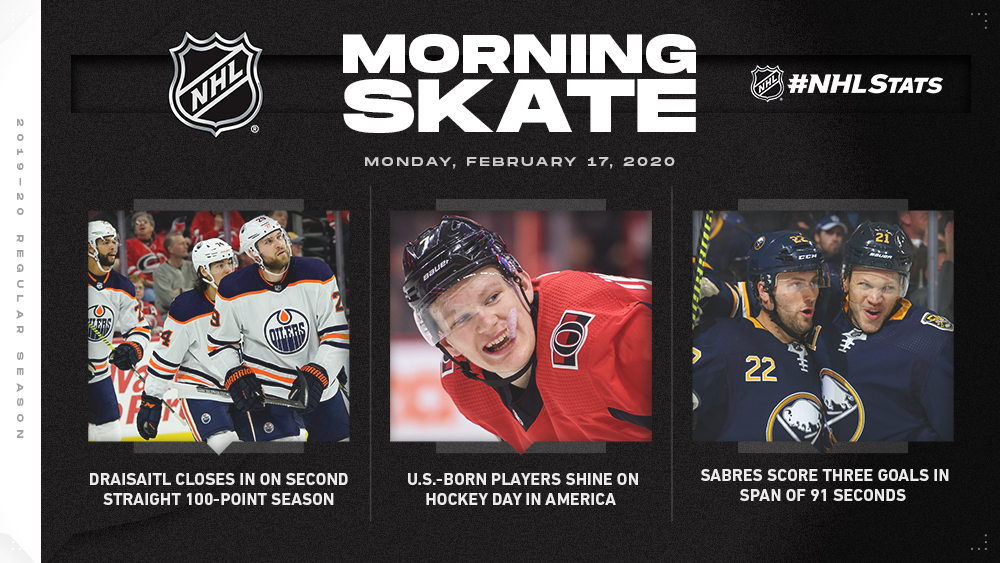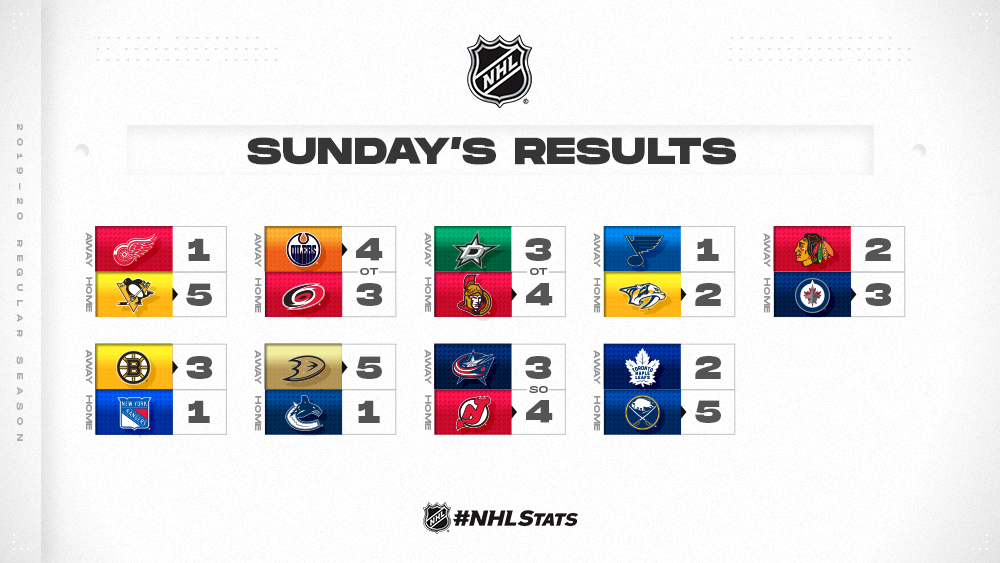 THREE HARD LAPS
* Leon Draisaitl, who made history in 2018-19 when he became the first NHL player of German nationality to reach the 100-point mark in a season, moved within five of another triple-digit campaign.
* A pair of U.S.-born players skating with teams based in their home state each scored as Hockey Day in America was celebrated on NBC and NBCSN. Overall, players born in the United States accounted for nearly half of all goals on Sunday.
* Will tonight be the night? Alex Ovechkin, who has been held off of the score sheet in each of his last four games, needs just two tallies to reach 700 career regular-season goals.
DRAISAITL MOVES WITHIN FIVE POINTS OF 100 AS OILERS PASS CANUCKS
Leon Draisaitl collected 1-2—3 – including an assist on the overtime winner by Josh Archibald (2-0—2) – to boost his League-leading season totals to 34-61—95 (59 GP) and help the Oilers (32-21-6, 70 points) move past the Canucks (32-22-5, 69 points) for first place in the Pacific Division standings.
* Draisaitl, who opened a 13-point lead in the 2019-20 Art Ross Trophy race, moved within five points of his second straight season with 100. With five points over his next two outings, Draisaitl would become the first player to reach 100 in 61 games or fewer since NHL legend Mario Lemieux with Pittsburgh in 1996-97 (44-56—100 in 61 GP); Lightning forward Nikita Kucherov, who captured the Art Ross Trophy in 2018-19 with 128 points (41-87—128 in 82 GP), reached the milestone in his 62nd contest last season (30-70—100).
* Only three different players in franchise history have reached the 100-point mark in 61 games or fewer – a feat last achieved by another League legend Wayne Gretzky in 1987-88 (34-67—101 in 43 GP).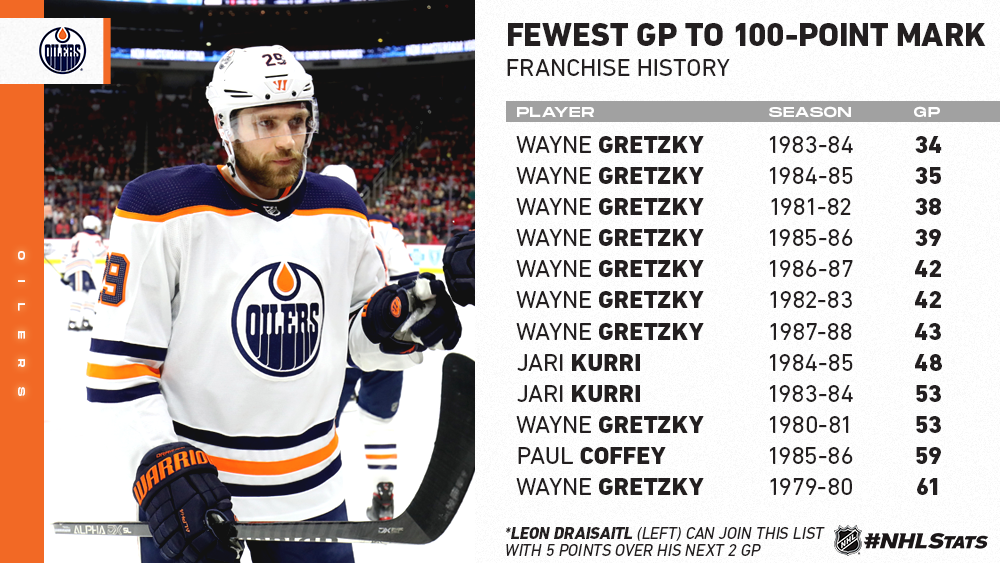 * Draisaitl has averaged over a point per game in 45 career contests without Oilers captain Connor McDavid in the lineup (14-32—46), which includes 3-7—10 in four outings since Feb. 11 (2.50 P/GP).
PLAYERS FROM MASSACHUSETTS, PENNSYLVANIA HELP BRUINS, PENGUINS . . .
Charlie Coyle (E. Weymouth, Mass.) and Sam Lafferty (Hollidaysburg, Pa.) each scored to help the Bruins and Penguins earn wins in Hockey Day in America games, respectively.
* Coyle, who was born just outside of Boston, scored the game-winning goal while shorthanded to help the League-leading Bruins (37-11-12, 86 points) improve to 9-1-0 in their last 10 outings.
* Boston scored a game-winning goal while shorthanded for the second time in as many days, with Patrice Bergeron achieving the feat on Saturday (4-1 W vs. DET). It marked the second time in franchise history in which the Bruins scored a shorthanded winner in consecutive games, following Feb. 27 – March 1, 1969 when Ed Westfall and Phil Esposito combined for the feat (since 1933-34 when goals by type were officially tracked).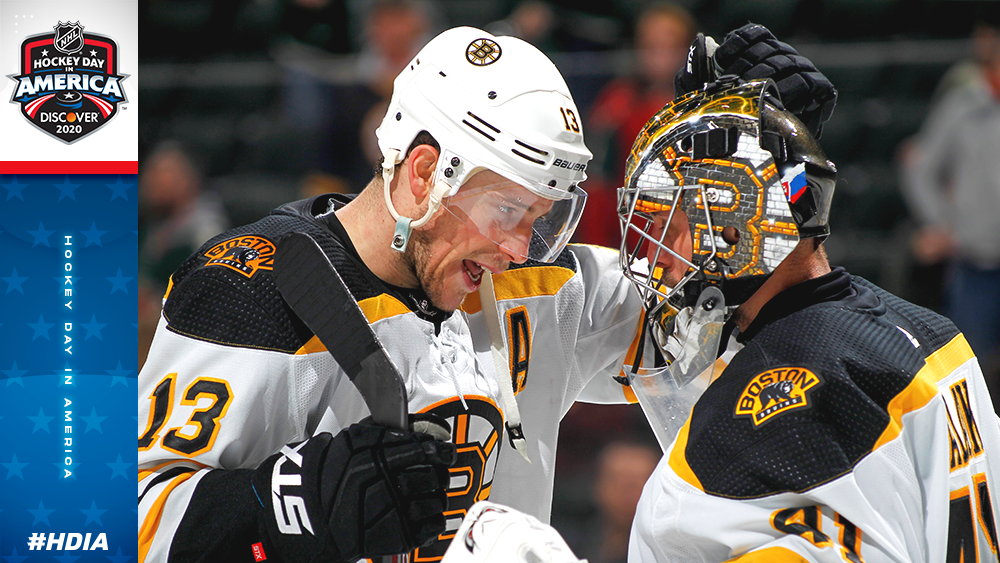 * Lafferty, who was born about 100 miles from Pittsburgh, was the first U.S. player to score a goal on Sunday – helping the Penguins improve to 36-15-6 (78 points) this season and move within one point of the idle Capitals (37-16-5, 79 points), who occupy first place in the Metropolitan Division standings.
* Pittsburgh trailed Washington by 13 points entering play Dec. 12, 2019, but have gone 19-5-2 (40 points) in 26 games since then to close the gap to just one – including a 11-2-1 (23 points) mark over that span without captain Sidney Crosby in the lineup.
* The Penguins have earned at least one point in each of their last six games at PPG Paints Arena (5-0-1) and recorded their 21st home win of the season overall (21-5-4, 46 points) – matching the Bruins (21-2-9, 51 points) for the most in the NHL.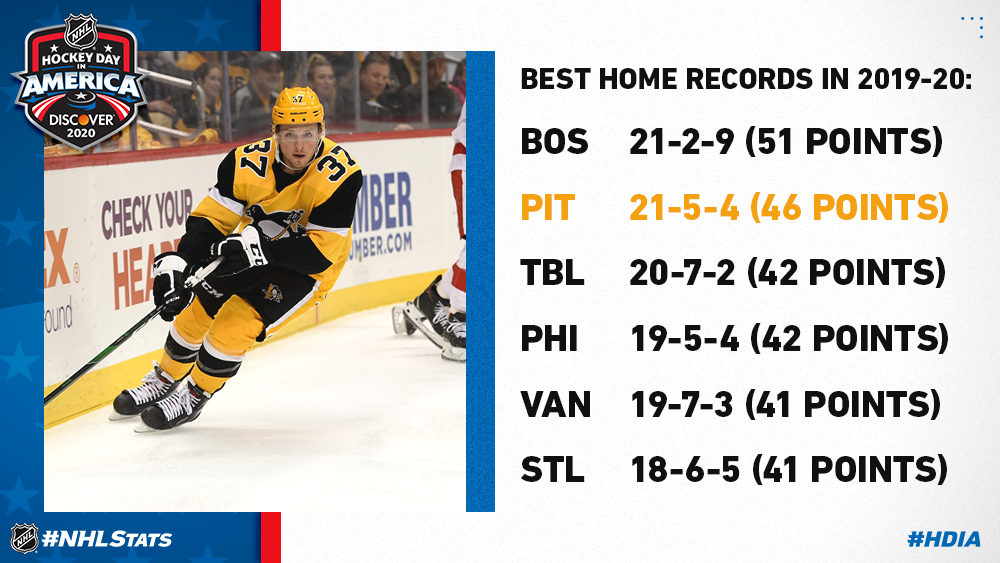 . . . PREDATORS ALSO EARN WIN IN HOCKEY DAY IN AMERICA GAME
Kyle Turris scored the go-ahead goal with 2:12 remaining in regulation as the Predators (29-22-7, 65 points) swept their home-and-home, back-to-back set with the Blues and moved within one point of the final Wild Card spot in the Western Conference standings.
* Craig Smith, a native of Madison, Wis., opened the scoring for Nashville. U.S.-born players accounted for 21 of 51 goals on Sunday excluding shootouts (41.2%), with 11 different states represented among the scorers.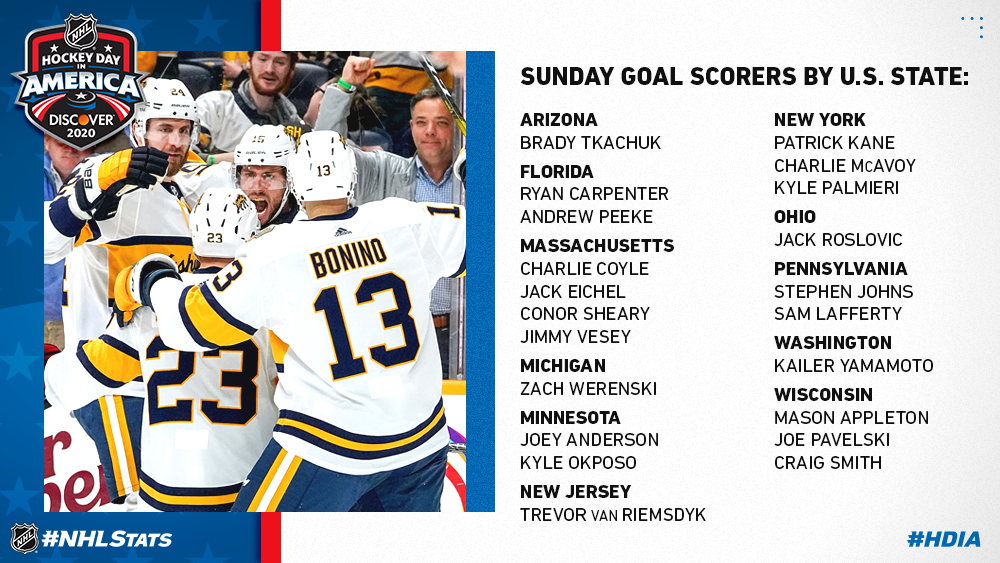 DID YOU KNOW?
Sabres teammates Jack Eichel (North Chelmsford, Mass.), Kyle Okposo (St. Paul, Minn.) and Jimmy Vesey (Boston, Mass.) combined for three third-period goals in a span of 1:31. It marked the second time in franchise history in which Buffalo tallied three times in a span of two minutes or less with each goal scored by a U.S.-born player, following Brian Holzinger (Parma, Ohio) and Derek Plante (Cloquet, Minn.) combining for the feat on Dec. 20, 1996 (1:42).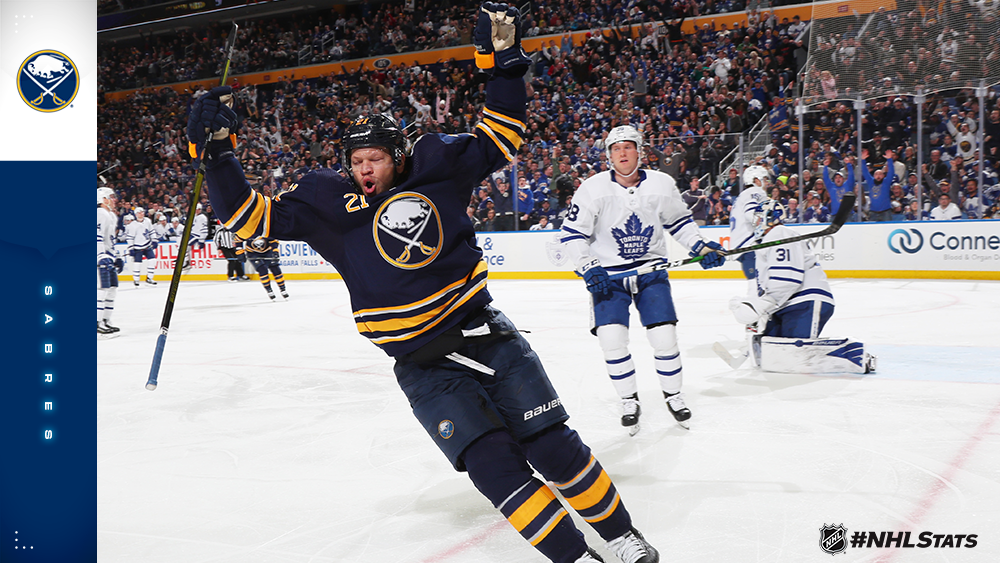 ST. LOUIS-ANAHEIM GAME RESCHEDULED; FLORIDA-ST. LOUIS GAME ALSO MOVED
The postponed game between the Blues and Ducks – originally scheduled for Feb. 11 but postponed by the NHL due to a medical emergency involving defenseman Jay Bouwmeester – has been rescheduled for Wednesday, March 11. As a result, the game between the Panthers and Blues, originally scheduled for March 10, has been moved to March 9.
* Click here for more information.
QUICK CLICKS
* Blake Coleman traded to Lightning by Devils
* Andy Greene traded to Islanders by Devils
* Mackenzie Blackwood makes 52 saves in Devils' shootout win against Blue Jackets
* Black Hockey History Tour visits Nashville
* Alex Ovechkin resumes quest for 700th goal for Capitals against Golden Knights
PREVIEW OF TODAY'S ACTION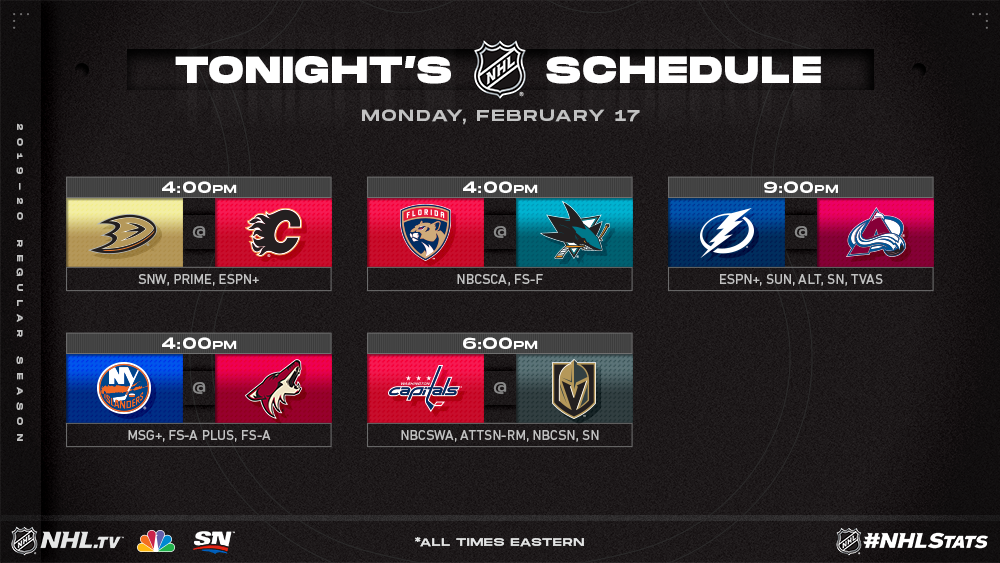 OVI AIMS TO SNAP FOUR-GAME SCORING DROUGHT IN PURSUIT OF GOAL No. 700
Capitals captain Alex Ovechkin (698-570—1,268 in 1,141 GP), who is two regular-season goals shy of becoming the eighth player in NHL history to reach 700, aims to snap a season-high four-game scoring drought when Washington visits Vegas at T-Mobile Arena.
* Ovechkin will potentially face a familiar goaltender should Marc-Andre Fleury – who played for the Penguins across 13 seasons from 2003-04 to 2016-17 – get the start for the Golden Knights. Ovechkin has scored 24 goals in 41 career head-to-head regular-season games versus Fleury (24-13—37), tied for his most against any NHL goaltender (also 24 G vs. Henrik Lundqvist; 24-15—39 in 42 GP).
* Ovechkin has also scored 13 goals in 19 career head-to-head playoff meetings with Fleury (13-11—24), including three during the 2018 Final as the Capitals captured their first-ever Stanley Cup (3-2—5 in 5 GP).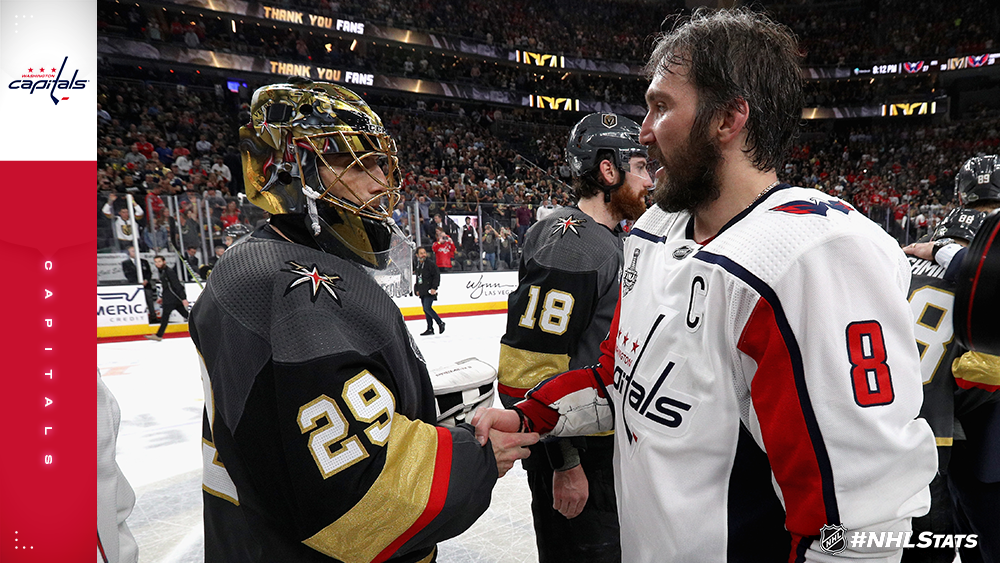 LIGHTNING LOOK TO EXTEND TEAM, PLAYER STREAKS
The Lightning, who are 10-0-0 in their last 10 games dating to Jan. 29 and own the longest active win streak in the NHL, look to extend their run to a franchise-record 11 contests when they visit the Avalanche at Pepsi Center.
* Tampa Bay defeated Philadelphia on Saturday to equal its franchise record for longest win streak, a mark set from Feb. 9-27, 2019 and matched earlier this season from Dec. 23, 2019 – Jan. 11, 2020. A victory on Monday would also give the Lightning the lengthiest run by any team this season.
* Andrei Vasilevskiy is 19-0-2 in his last 21 appearances dating to Dec. 17, 2019 (1.98 GAA, .934 SV%, 2 SO), including eight straight wins. He can become the fourth goaltender in NHL history to record at least one point in 22 or more consecutive appearances within a regular season.
* Brayden Point enters Monday with a career-high 10-game point streak (3-11—14), tied for the longest active run in the NHL with Flames forward Elias Lindholm (7-5—12 in 10 GP). The lengthiest point streak recorded by any player this season is 17 games, a mark set by Sabres captain Jack Eichel from Nov. 16 – Dec. 17, 2019 (16-15—31).